First Mobile App Download and How to use it for Transaction
First Mobile App is the official banking app for First Bank Nigeria. According to the bank, a smartphone is the new survival kit and the App is there for you to ensure you have the right tools to meet your lifestyle needs. With this First Mobile App, you basically don't need to visit any First Bank branch near you before making any transaction. This app is equipped to handle almost every transaction you want to make. The First Mobile App is compatible with both Android and iOS operating devices.
The mobile app features include Account overview, Funds transfer, Bill payments and Card management. Account overview lets you see a breakdown of your account, including debit and credit transactions history. The funds transfer feature lets you send money from your account to someone else accounts. Under the bill payment feature is where you can pay for your bills such as Cable TV, Internet service, utility bill, flight booking and many more.
How to Download the First Mobile App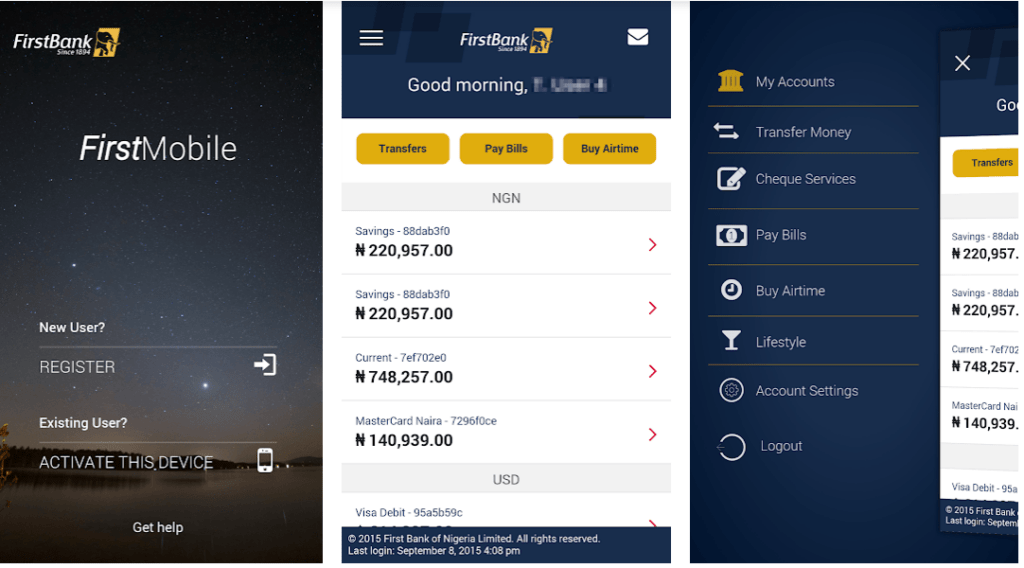 Like I said in the introduction, this mobile app can run on both Android and iOS operating devices. If by chance, your device runs on the Blackberry operating system, you can still download the First Mobile App. To download the First Mobile App, Android users are required to visit Google Playstore, search for the app and download. iOS users should visit the App store to download while Blackberry users also visit the store app on their device. You can also visit their website https://www.firstbanknigeria.com/getfirstmobile to automatically download the app to your device.
How to Activate First Mobile App
By now you must have downloaded the First Mobile App to your device. But it won't just start working immediately. Here, I'll be showing you how to activate the mobile app to enable you to perform transactions. Please note that you must have a First Bank Verve card or naira MasterCard to use their First Mobile App.
Open the First Mobile App
Select 'register'
Fill in your First Bank card details and press 'Next'
A text message (SMS) will be sent to the phone number registered to your account. Inside the message is a One-Time password (OTP). This password usual contains five digit number.
• On the next page of the Mobile App, you'll be asked to create a 5-digit mPIN. This PIN will be used anytime you want to log in to the Mobile App. So, make sure you can remember the 5-digit mPIN. Along with the mPIN, you will enter the OTP password sent to your phone.
• Next, you'll enter two security questions and answers of your choosing. Choose your 4-digit transaction PIN, confirm the PIN and select 'Save'. And you'll be activated.
NOTE: Do not confuse your transaction PIN with your login PIN. The transaction PIN will only be asked when you're making a transaction. Your login PIN grants you access to the Mobile App itself. Do not share any of these PINs to anybody whether family or friends.
Navigating through the Mobile App shouldn't be much of a task. Once you're logged in, the Account overview will be on standby. To make a transaction, click on the menu in the top left corner, and select 'Transfer Money'. In that menu, you'll see other features of the app such as Cheque services, Pay Bills, Buy Airtime, Lifestyle, Account settings and lots more. You can recharge your line directly from the App and also help friends and family recharge theirs. This Mobile App can also help you pay for your GOTV/DSTV subscription under the 'Pay Bills' section.