How to check NYSC call-up letter and print it out
How would you like to learn more about checking your NYSC call-up letter and printing? In this article, we will share all you need to know about NYSC call-up letter.
National Youth Service Corps (NYSC). Is a compulsory scheme set up in 1973 by the Nigerian Government, where all graduates below the age of thirty are sent to serve the country. For a year, each Corp member is sent to a state other than their state of Origin to serve their motherland, Nigeria. They are given salaries just like other normal paying jobs. This has been currently increased from 19,800Naira  to 32,500Naira allowance as people fondly call it.
Importance Of NYSC To Graduates
This one year of service gives you the working experience. An advantage which will make your job hunt an easier one.
There is a law which makes it almost impossible for graduates without the NYSC certificate or Exemption letter to be employed in the country.
Now that you know how important NYSC can be to one's life in the Labour market, it would interest you to  also know that you can't do all these without your Call-up letter.
Call-up Letter is the letter a Corp member shows as proof that he or she has been called for National service. It is one of the vital requirements needed for NYSC.
 Before now, printing Cal up letters used to be an ordeal (stressful one at that) because of traffic at the site during such time and the lack of know-how on how to go about it. But we are here to remedy all of that. All you need is a system or phone, a printer and a good browser, and you can easily print it out in the comfort of your home 😁.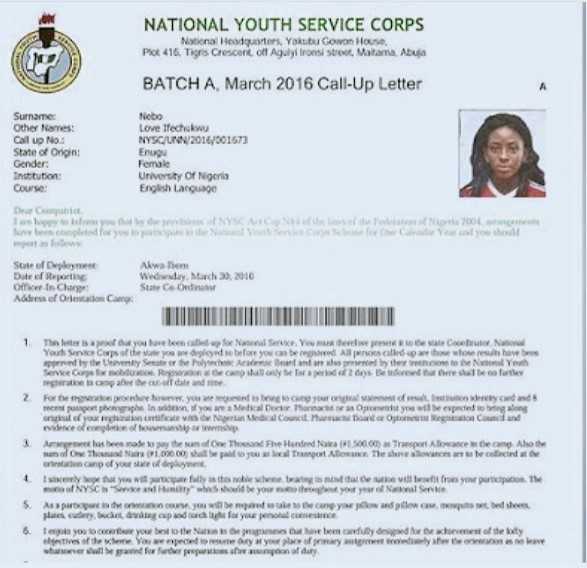 Steps to check NYSC Call-up letter and print
Type  the correct NYSC portal URL http://portal.nysc.org.ng into your browser
Using your registered Email and password, Log in.
Click on "print call-up letter" link
And Viola!! Your call-up letter is printed and you're ready to go.
It is very crucial to note that only prospective Corp members who've completed their registration and made the payment requirement of 3,000Naira can print out their call up letters. The rest are to get theirs from their various institution of graduation.
The NYSC Call-up Letter contains vital information about the person. These include the Name, Call-up number, the state you've been posted to serve, the date you're to report to camp and also when verification will be over.
Good luck to all Corp members to be, I hope this article was useful.