StarTimes Nigeria Channels List, Subscription Plan, Prices and Customer Care
Have you ever wondered what is the StarTimes Nigeria channels list?StarTimes subscription packages plans? Do you want to know how to contact StarTimes Nigeria Channels Customer Care? Then continue reading this post.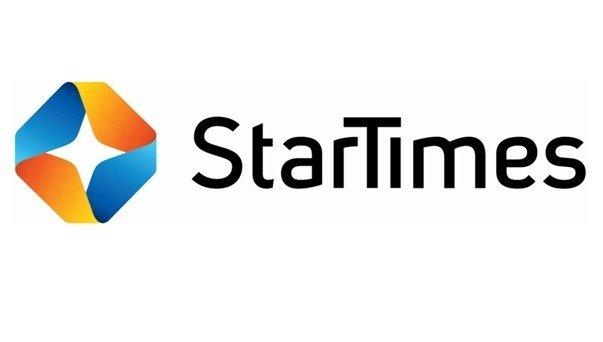 In this article, we will share insights on everything you need to know about the StarTimes Nigeria channels list and lot more.
StarTimes first opened its doors in 1998. It is a Chinese Company that today also offers electronic and digital TV services to millions of subscribers across Africa and China. In Africa, the company operates in Burundi, Nigeria, Kenya, Central Africa Republic, Uganda, Rwanda, and Tanzania.
In Nigeria, the StarTimes Nigeria we know today began as a collaboration with the Nigerian Television Authority (NTA).
Why Choose StarTimes Nigeria?
Currently, the media giant has a wide range of offices in major cities across Nigeria. They include Lagos, Aba, Kano, Benin, Enugu, Ilorin, Jos, Markurdi, Onitsha, Port Harcourt, Uyo, Yola, Ibadan and lots more.
For most people in Nigeria, Startimes is one of the most affordable options that include fascinating channels. This is because the company did a lot of restructuring to accommodate the competition with other Cable TV in the country.
Due to its widespread adoption in Nigeria, Startimes claims to be an industry leader and has one of the fastest-growing digital Pay-TV platforms in Africa. Today, Startimes offers Direct-to-home (DTH) offering, which is one of the reasons it remains intensely alive in Nigeria.
Startimes Decoders
When you purchase the StarTimes discover, you will receive a remote, 10m outdoor antenna and a free month NOVA StarTimes package. However, depending on your location, you might also need another outdoor antenna or purchase the branded Startimes Satellite Reciever.
However, your discover differs according to the quality of the image resolution you want. Usually, you can have:
HD decoder – 7,500
Combo decoder – 6900 ( includes the Digital Terrestrial (DTT) and Satellite TV)
SD decoder – 4500
Other packages
You can also get with the accessories at discounted prices such as:
StarTimes SD DTT decoder plus Antenna – 5,900
ST DTH (Satellite Television) S2 Decoder – 7,900 Naira ST DTH S2 Decoder with dish and accessories – 11,900 Naira.
There are many other packages, you might enjoy depending on when you buy and whether you buy a few things together.
Other Startimes Products
Beyond Cable TV, Startimes also has a host of other products you might like including:
10m External Antenna – N1,900
StarTimes Digital LED TV 24
The StarTimes 32 Inch Ultra Slim HD LED TV – N69,000
StarTimes 40 Inch FHDTV (three in one Digital LED TV – N109,000
The StarTimes Bluetooth Speaker
StarTimes 4K UHD 55 Smart TV
The StarTimes High Integrated Digital Projector TV – N80,500
Solar Power System – N108,000
StarTimes Bouquets and Subscriptions
Currently, there are four bouquet packages you can get from StarTimes according to your budget. Here are the StarTimes Bouquets:
1.   StarTimes Nova Bouquet – N900/month for 26 channels.
Nova is the cheapest option you can get on StarTimes. Here are the channels for Nova Bouquet:
AIT
CCTV News
The Channels TV
Child Smile
Cool TV
DOVE TV
E-STARS
Galaxy TV
IQRAA
LTV
MITV
NTA ENTERTAINMENT.
Nta Sports 24
ORISUN
STAR KUNGFU
REAL STAR
Silverbird TV
Star Zone
STV GUIDE
TVC
The Star Dadin Kowa
TVC News
Wazobia TV
This bouquet is definitely for our fathers (winks) who believe everything revolves around News alone. However, if you want to enjoy other forms of entertainment, this is obviously not the bouquet for you.
2.   StarTimes Basic Bouquet – N1300/month for 40 channels
The Basic Bouquet includes everything in the Nova package plus 20-month exciting channels. Here are the channel lists not included in the NOVA but found here:
ALJAZEERA
AMC
AMC MOVIE
AMC-Nigeria
ANIMAUX
BBC World News
CORE TV NEWS
Da Vinci Learning
DTN
eTV
FARIN WATA
MCS Extreme
STAR ONE
Nickelodeon
Nigezie
NTA ENTERTAINMENT
STAR CHINESE 2
The STAR NOVELA E1
TBN
Wap TV
3.   StarTimes Classic Bouquet – N1900/month for 60 channels
The StarTimes Classic is for the movie lovers, like me, who need multiple options and end up watching only one throughout the month. So, here are the StarTimes Classic Bouquet Channels:
AIT
AMC MOVIE
AMC Series
BET
CCTV 4
CCTV 9 Documentary
The CCTV News
Channels TV
Child Smile
Cool TV
Discovery Science
DOVE TV
E! Entertainment
E-STARS
Eurosport News
Fine Living
Fox News
Fox Sports
Galaxy TV
GET TV
IQRAA
Iroko Play
JIM JAM
LTV
MITV
MTV Base
Nature and History
NBA TV
NTA ENTERTAINMENT
Nta Sports 24
ORISUN
POP
QYou
REAL STAR
Silverbird TV
Star Africa 2
Star Bollywood TV
The Star Dadin Kowa
STAR KUNGFU
Star Sport 2
The Star Zone
STV GUIDE
Tiwa'n'Tiwa
TLC
Trace Sport Stars
TVC
TVC News
Wazobia TV
4.   StarTimes Unique Bouquet – N3,800/month for 100 channels.
If you want more premium content and ready to pay without blinking, the StarTimes Unique Bouquet is the go-to option. Again, movie freaks like myself would love this option. The channels include:
ST Novela E
DISCOVERY SCI
FINE LIVING
JIMJAM
ANIMAUX
BBC WORLD NEWS
Bloomberg TV
ETV
FOX NEWS
The FOX SPORTS
FOX SPORTS 2
MSNBC
MTV BASE
ST Africa 2
The ST Bollywood
ST Dadin Kowa
Star GOLD
ST Movies Plus
ST Music
Star Plus
ST RISE
VIASAT E
VIASAT N
NTA NEWS 24
NTA E
Silverbird TV
GALAXY tv
CHANNELS
MITV
E STARS
Orisun
Farin Wata
TVC NEWS
Nickelodeon
NTA Knowledge
Nigezie
TBN
IQRAA
Zee Cinema
EWTN
DBN
TVC NG
Wap tv
EUROSPORT NEWS
CGTN
Al Jazeera
ST Series E1
Baby tv
DTN
AIT
NTA HAUSA, YORUBA & IGBO
Wazobia TV
NTA Parliamentary
Dove Tv
Other premium channels include
Gamji
Liberty
AMC
Da Vinci Learning
Smile of a Child
Pop
FOX
ST Guide
The ST Swahili
ST Sports Focus
Gospel Music TV
ST Zone
IROKO 1
AMC Series
NTA LAGOS
The NTA SPORTS 24
NTA Lagos 10
AMC Movies
ST Sports Premium
NBS
CGTN DOC
France24
Fashion One
MINDSET LEARN
ST Gospel
GOD
Deen TV
Channel TEN
CNC WORLD
ST Soul
ST SA Music
KISS
Magic
Fuel TV
Classica
TVB DRAMA
Fujian TV
Zhejiang TV
China Movies Channel
Beijing TV
Tianjin TV
Phoenix Info
CCTV 4
CTI Asia
Phoenix CNE
AWA TV
ST Sports Life
Sony SAB
ST World Football SD
The ST Sports Arena
ST Sino Drama
ID
ST KUNGFU
EMMANUEL TV
IROKO 2
E! ENG
TVBC
Africa News
Remdel TV
ST Yoruba
ST Plus
FOX LIFE
ST Bollywood Africa
NGW E
NGC E
NDTV24x7
ST KOLLYWOOD
RAJ TV
M TUNES
ST SPORTS PREMIUM HD
ST World Football
VIASAT L
VIASAT H
CNBC
VIASAT N+H
ISI MBIDO
AMC Movies HD
ST NOVELA E PLUS
The ST KUNGFU PLUS
ST MOVIES
Introducing StarTimes Nigeria On
If you are an avid lover of the internet and would definitely prefer to live stream your movies, then you can use the StarTimes Online Video Streaming Option. This option works with your regular StarTimes subscription package. Therefore, you need to have the decoder to access the StarTimes On. However, you will have access to over 150 free channels and ways to minimize your data costs by over 40%.
Here are the download links for the StarTimes Nigeria apps: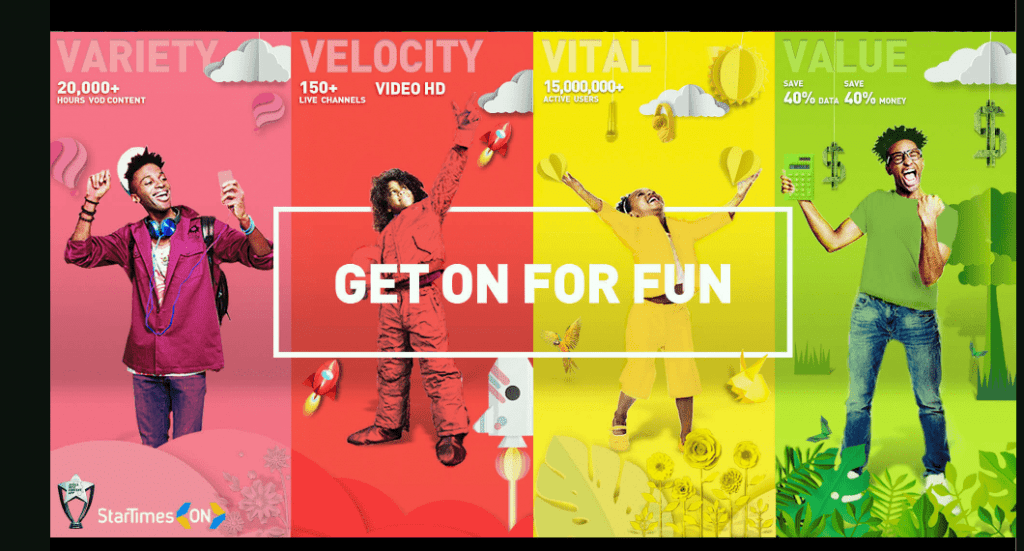 StarTimes Nigeria Customer Care Contacts
StarTimes Nigeria has multiple channels to which you can contact them. You can either use their Social pages or call their customer care. They also have physical offices in several Nigerian cities. To see the full list of StarTimes customer care addresses for your location, click here.
On the general note, you can use the following numbers:
0719 077 077
014618888 (7.00 – 20.00 every day)
094618888 (24 hours/7 days a week)
09087393415 ( Whatsapp)
If you prefer using email, then you can use the following StarTimes Nigeria email addresses:
StarTimes Nigeria Social Media Pages