Valentine's Day Messages for Father
It is a general but wrong notion to place less importance on our fathers. Most fathers sacrifice everything, and sometimes their lives for the well-being of the family only to get little appreciation from society. Let's correct this anomaly by showing a nice gesture on Valentine's Day.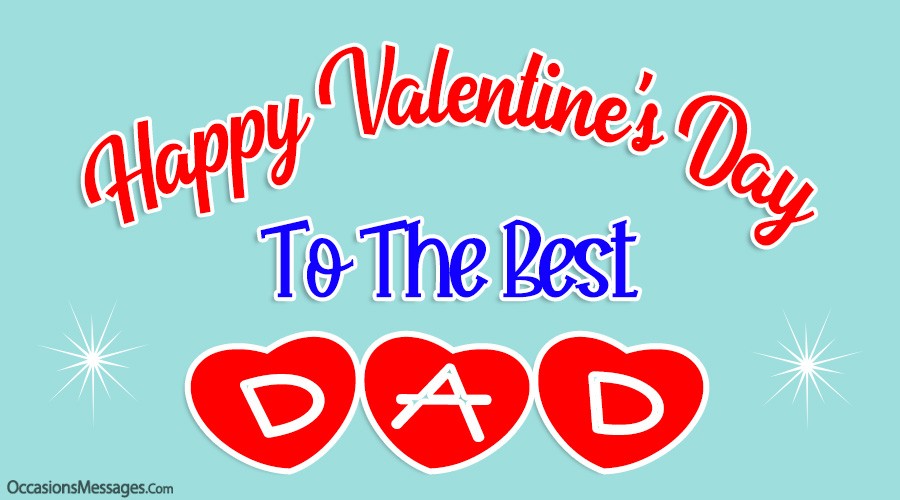 Say how you genuinely feel and thank him for the numerous efforts towards making you a happy person. We compiled some breathtaking Valentine's Day Messages; send as many to your dad.
Best Valentine's Day Messages for Dad
Valentine's Day greetings to the father of the year who surpassed others in both fatherly and humanitarian ability.
Daddy, I am your veto Valentine for today so get ready for a day of fun and unlimited possibilities, you know just how I roll.
Brace yourself, dad for a beautiful Valentine's Day; I hope you end the day with more happiness in your life.
Thank you for being the best daddy that any child would love for themselves. I have a good life with you on my team.
Everyone wonders why I took an abnormal obsession in you; the truth is that I adore you as my dad and a worthy role model. Happy Valentine's Day.
Our family is full of beautiful people; nevertheless, I pick you as a source of inspiration. Make the Valentine season worthwhile.
Although you can be hard on me sometime the moment I realize that it is for my benefit, I always thank God for having a tremendous father.
You represent a rock that I can lean on in times of trouble; I trust your opinions because it is in my best interest. Happy Valentine's Day, dad.
Valentine's Day is to acknowledge fathers like you that love unconditionally and totally. I have never regretted you being my father.
Dad, I hope your Valentine's Day is going well because I will love to hear some feedback about how you spent it. Mine is going as planned.
Nothing is more significant to me for today than to ensure that my father enjoys his Valentine's Day, so do not let me down.
My love for you is old news, so father; prepare yourself up for a lifetime of love and attention from me that is your most obsessed fan.
Since you are my father, I will appreciate you on every Valentine's Day on earth and in heaven.
Most fathers are cocky because of the pressure they face to provide for the family, but you find a way of being cool-headed and more lovely than expected.
Weakness can be a form of strength because my weakness for my dad makes me do things that I never thought would be possible, like always loving you.
Dad, the Valentine's Day celebration will not last for days, so I remind you to make the best use of the day to celebrate love with family and friends.
Even if you do not support me on my next move, I will still sing your praises to anyone that cares to listen. Happy Valentine's Day to you, Daddy.
I wish every good thing that the Valentine season has to offer my dad. I will love to hear the lovely things that you did today. Happy Valentine's Day dad.
Happy Valentine's Day to the father of the decade. I sent God a series of prayer requests for you as a token of my love for the season.
You deserve to laugh for the rest of your beautiful life, just like you put a smile on my face every day. Happy Valentine's Day to my Superman Dad.
My Valentine's Day remains incomplete without you, daddy. I wish you a long life to enjoy my undying love.
It will be disappointing to see someone else care more for their father than me on Valentine's Day, so I packaged a special surprise for you.
Hopefully, today's Valentine's Day will be better for us than the previous ones, so Daddy, the ball is in our court to make history as always.
I could not sleep well through the night because I want to be the first child to wish their father Happy Valentine's Day; I hope I was on time.
Nobody knows that I will always be your number one fan but me and you. So as my dad's fan, I deserve a big Valentine's Day package.
A form of wisdom is to acknowledge a father's service on Valentine's Day. I know you to be a smart man, so I learned a lot from you.
Dad, we are strongest when we stick together as a family, so my Valentine's Day promise is to you is to always be by your side even in hard times.
As I grew older, some things became more important to me than others like wishing my dear dad Happy Valentine's Day.
Do not think that I am done with loving you as hard as imaginable. Just imagine how I will treat you on today's Valentine's Day celebration.
Courtesy demands that I wish my father a happy Valentine's Day before the day runs out. I hope my message makes you smile a bit.
Valuable people such as my dad should have an experience of a lifetime on Valentine's Day to serve as a remembrance of love for times to come.
Have you ever thought of me not liking you as I used to, do not bother because I will always love my daddy through eternity.
The sweetness in you as a father is the main reason why I will always celebrate you on Valentine's Day as one of the greatest.
May our next life as father and child be as sweet as the current one because I am having much fun, and I hope Valentine would not be different.
Happy Valentine's Day, father. I hope you received my bundle of kisses from the angle I sent to your bedside.
The bond between a father and child is unbreakable, at least for us. I would not feel comfortable going to bed without telling you that I care.
Fathers can be harsh and too demanding, but it is always for the progress of the child; therefore, thank you for trying to make me a better person.
You May Also Like:
Valentine's Day Wishes for Someone Special who is Far Away
Unique Romantic Valentine's Day Wishes – Emotional Love Messages